Teaching History 4.0
2019 - 2020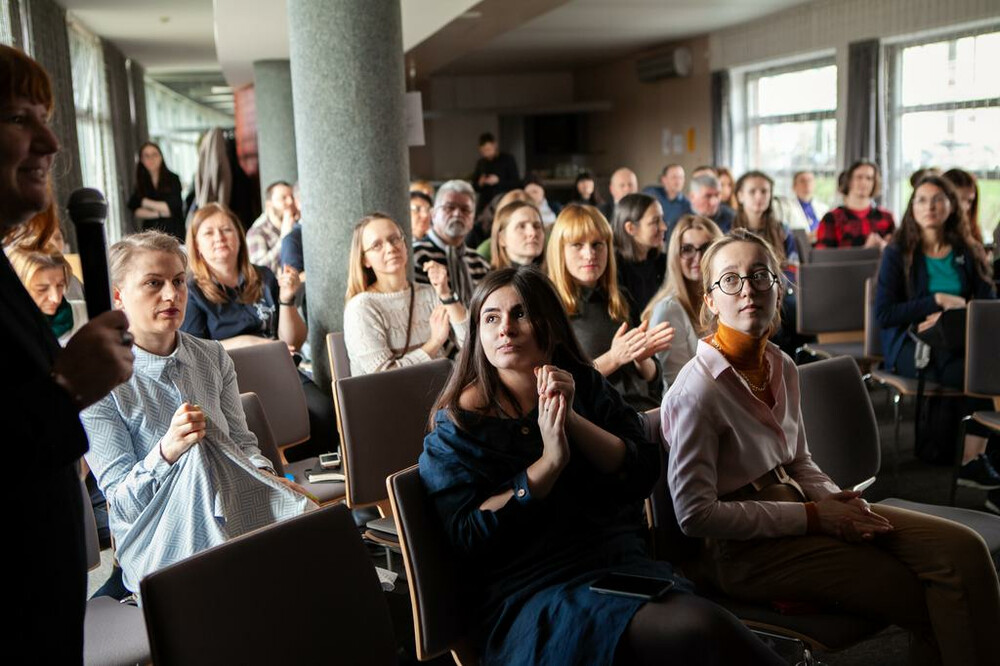 Project objectives
Facilitating dialogue between multipliers of historical educational work from Belarus, Ukraine, Russia and Germany with an aim to exchange views on competing narratives of WW2 from different perspectives.
Search and establishment of partnerships with potential partner organizations from Poland and Germany.
Creating a network structure for the purpose of interaction between historical and educational multipliers about digital memory culture.
Mastering new qualifications for working with innovative, digital methods of presenting information.
Project description
On 25-30 June 2019, the seminar "Historical narratives and multi-perspectiveness: World War Two - about storytelling and silence-keeping" was held in Gdansk (Poland). The event gathered 20 participants from Belarus, Ukraine, Russia and Germany. The programme included theoretical introduction and group work: in country teams participants articulated specific national narratives about World War Two, whereas in mixed teams they looked into other countries' narratives having analyzed its comprehensiveness. Within the study visit, participants attended the Museum of the Second World War and European Solidarity Centre. The group also went on a sightseeing tour around Gdansk memory sites discussing the Polish narrative of WW2.
Another educational study visit on "Historical narratives and multi-perspectiveness" was conducted to Berlin (Germany) on 1-6 September, 2019. Within a week participants from Belarus, Russia and Ukraine learnt modern educational practices (virtual and augmented reality, social media and storytelling) as well as explored how historical narratives are represented in German museums. During the visit, historians and teachers attended the German-Russian Museum Berlin-Karlshorst, Memorial to the Murdered Jews of Europe and other historical landmarks of Berlin.
The third activity within the project was the international historical hackathon #hack4history, held for the first time on 18-20 October, 2019 in Minsk (Belarus). The event gathered over 60 participants from Belarus, Ukraine, Russia and Germany. For two days, 14 teams together with the invited mentors have been working to create digital products prototypes on various historical themes. Based on the final presentations, the jury had selected 4 winning teams, whose projects were supported with 9000 euros in total with the aim of further product development and expert accompaniment of the project.
The supported projects were realized and presented at the Digital History MEETUP, held in Minsk (Belarus) on 13-14 March, 2020. The event gathered over 60 participants from Belarus, Ukraine, Germany and Russia, and became a perfect networking platform for historians, museum employees, IT professionals and NGO representatives. Apart from expert lectures and a panel discussion with invited speakers, meetup programme also included a #showcaseday, where participants presented their projects, as well as discovered trends and best practices of digital history products in Belarus.
Project outcomes
The project resulted in the development and launch of the platform for digital products - Digital History Network. Platform will be of use to historians, journalists, NGO representatives, history teachers, IT experts, designers and project managers, interested in developing a culture of remembrance in Europe, especially about the events of World War Two.
The project was implemented with the financial support of the German Federal Foreign Office.