Mobile application Track Holodomor History
June 2020 - now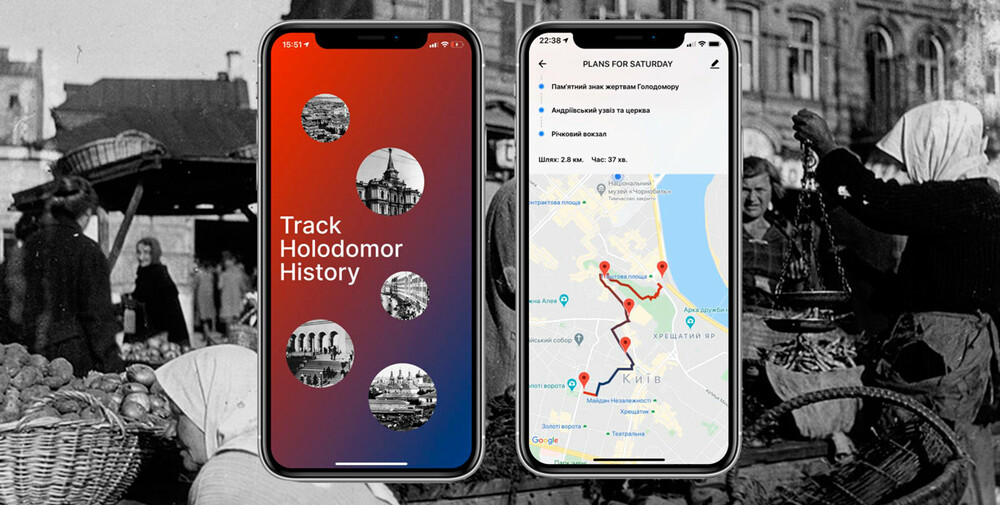 Project objectives
The "Track Holodomor History" mobile app aims to bring people closer to the history of the Holodomor, inviting them to walk around Kyiv and learn about places, streets, buildings that preserve details of the tragic history of the genocide of Ukrainians in 1932-33. Users of the application - schoolchildren and historians, Ukrainian and foreign tourists - with the help of it will be able to imagine Kyiv of the early 1930s through archival photographs, memories of the then residents of the city. They will learn about the criminal acts of the organizers and perpetrators of the genocide, the heroism of the town dwellers who tried to save with their own 200 grams of bread lives of those arriving from villages and other facts. The project will benefit guides, teachers, tourists and residents of Kyiv.
Project description
The mobile application is a register of objects presented as a list with a search function, and a map of modern Kyiv where locations are presented in the spacial dimension. Among the locations you can find residential buildings and the stories of their inhabitants, the stories of streets and squares, markets, churches, «torgsins», places of mass burial, canteens, transport hubs, factories and plants - all components of the city of the early 1930s. Some of these buildings have not survived, and the area has acquired a different look, but thanks to more than 500 archival photographs, the user can imagine what Kyiv looked like then, and with the help of more than 200 memories, immerse himself in the tragic years of 1932-33.
Objects can be added to the "Favorites" and routes can be laid through them or one of the author's routes can be used. So the application will be useful and interesting for tourists who want to learn more about the history of the capital of Ukraine on their own, because the Holodomor period is often overlooked from sightseeing tours around the city. To encourage walking with the app, "blocked content" is attached to each item and becomes only available within 400 meters of the site. Here users will see additional photos, videos, commentaries by historians, images or works of contemporary art on this topic.
The application continues to grow - new objects are released every week.
The application is available in Ukrainian and English in AppStore and GoogleMarket.
Project outcomes
A tourist and educational mobile application for iOS and Android operating systems in Ukrainian and English about the history of Kyiv during the Holodomor-genocide of 1932-33. The project is aimed for a wide audience: residents of Kyiv, tourists, schoolchildren, students, ethnographers and those interested in history.