Don`t Forget Kharkiv
November 2019 - March 2020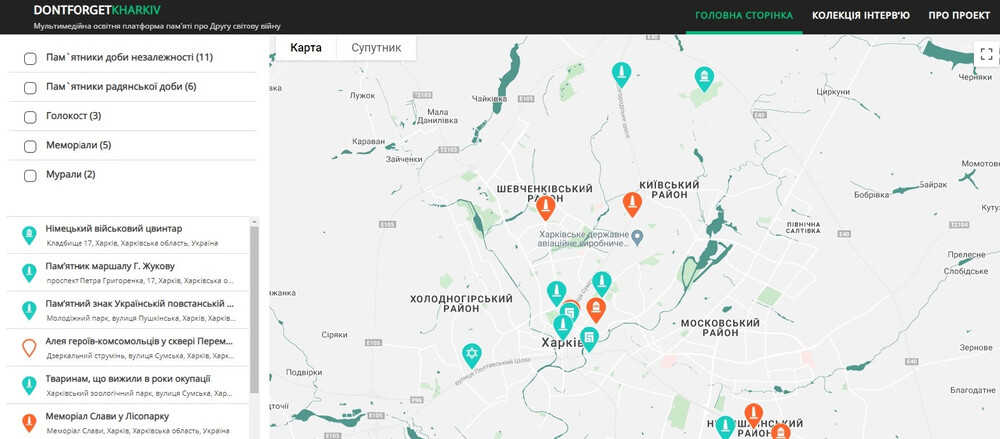 Project objectives
Creation of a multimedia educational platform that allows to present the politics and culture of memory of the Second World War in Ukraine in its dynamics, using the example of Kharkov city
Project description
Do not forget Kharkiv is a project aimed to create a multimedia educational platform for the memory of the Second World War. The project creates additional opportunities for scientists, teachers, pupils and students who explore, study and are interested in the memory culture of the Second World War. The platform provides resources to locate various memorial objects tied to a place of memory and its history, including modern memory policy and current memorial practices.
The project platform will help build and analyze the dynamics of memory, providing elements of a memory policy and memorialization practices in the Soviet period, during the period of Ukrainian independence before and after 2014. The project will collect Kharkov monuments in one place, which have a different orientation and represent different narratives, including Soviet, Ukrainian, Jewish, Polish and German. Many objects are erected in memory of the heroism of Soviet soldiers. There is a memorial dedicated to the tragedy of Polish officers and other victims of Soviet totalitarianism, the tragedy of the Jewish people - the Holocaust, the memory of the Ukrainian liberation movement - the Ukrainian Insurgent Army. Some sites are in memory of students, teachers and individuals objects. There are unusual memories which show how much in the urban space of Kharkov is reflected in the monuments of various historical periods devoted to many aspects of the history of the Second World War. The Do not forget Kharkiv platform collects and analyzes history through a memory object.
Project outcomes
The site with 17 objects is based on a map that is central to the platform. It contains objects: memorials, monuments, murals, which are located in the city of Kharkiv. In addition, it shows places that are no longer in urban space. Each object is accompanied by a historical background of its creation, photos, as well as video comments by expert historians, eyewitnesses and participants in the events.
The project became one of the winners of the international historical hackathon #hack4history held in Minsk and organised within the "Teaching History 4.0" project supported by the German Federal Foreign Ministry.