Virtual tour "Unknown Brest Fortress"
2020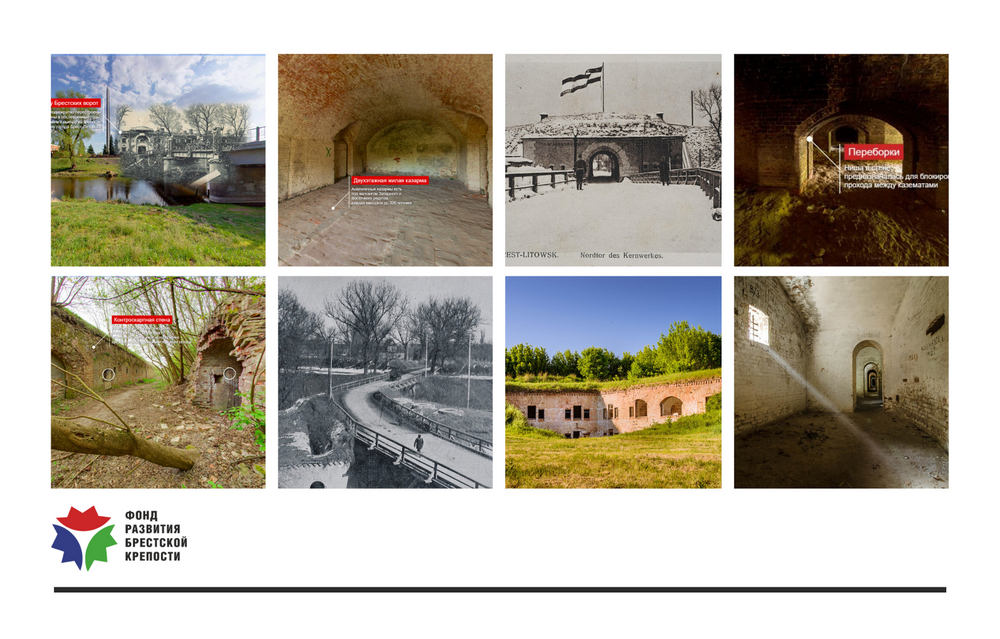 Project objectives
To present the fortress objects in the digital media as monuments of architecture, fortification and tragic history, to give an opportunity to view its details and traces of time. This project is also a form of presentation of the heritage that may be lost. The objects of the fortress outside the museum area are destroyed and only the attention and interest of society can save them.
Project description
The project is a virtual journey through the Brest Fortress, its places and objects not represented in the "official" tourist routes.
The journey begins and passes through the largest of the fortifications, the important defence of the Brest Fortress - Kobrinskoe defence. An audio guide leads you through the 19th-century fortifications to the Citadel, the center of the memorial complex 'Brest Fortress - Hero".
The material was prepared using archival data that for nearly 200 years has been labeled "secret" in the largest military archives of Russia.
This digital project is an opportunity to see examples of outstanding engineering and to trace the evolution of fortification art.
The text of the tour: Vladimir Orlov in partnership with Alexander Korkotadze (2014).
Project consultants: Oleg Polishchuk, Natalia Zdanevich.
Archival photos: collection of Evgeny Beresnevich, Foundation.
Panoramas: Stanislav Bogdevich.
Sound recording: Andrey Bogdanov.
Voice: Alina Dzeravianka.
Project outcomes
Users can access 9 complexes of 22 spherical panoramas, which are available on www.brestdatabase.by. When viewing a 3D tour, a guest can move around the fortress by clicking on the transition points inside 360° panoramas.
Interactive elements were added to the tour - audio guide, annotations, text, map of fortress, links, as well as archival photos and old postcards. For a deeper immersion into the fortress atmosphere, you can use the glasses button available in the main menu, which allows you to open the material in virtual reality (VR). In 25 minutes you can see and understand how the fortification works. The audio guide talks about the design logic of the fortress and the functions of each building.
In the first two weeks, the project received 22,600 unique users, and the geography more than 50 countries!